Let us show you how we have become the premier cleaning company in the area.
There are many expectations that you should have for the cleaning company you trust to keep your business clean and healthy. At GrimeGuru Janitorial Service, we don't believe you should have to compromise on anything, so we deliver an exceptional cleaning experience that will meet or exceed your expectations.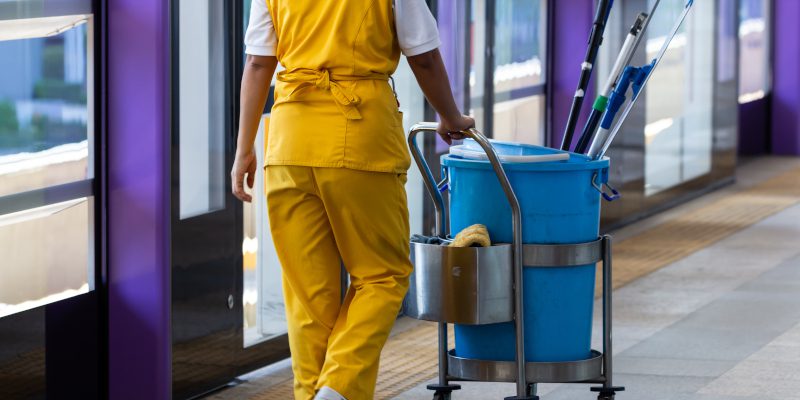 First of all, we offer a wide variety of cleaning services, including general janitorial, floor care polishing and waxing, window cleaning up to four stories, restroom cleaning, pressure washing, window blind cleaning, industrial overhead cleaning, tile cleaning, floor stripping and waxing, cleaning of ceramic and marble floors, post-construction cleaning, construction site cleaning, and efficiency consultations. We serve a wide variety of businesses, as well, including the special needs of churches, banks, medical facilities, and office buildings.
The next thing to know about our cleaning company is that we utilize eco-friendly cleaning products and techniques on every project. While other companies consider this an additional service that you have to request, it is standard for us because we care about the health of your staff, our staff, and the environment. We are equipped to follow a safety and health protocol based on your company's requirements.
We must be doing something right, as our cleaning company just started in 2016, and we already have a staff of 120 commercial cleaning professionals in our employ serving the Winston-Salem, North Carolina area. One reason we believe that is the case is our commitment to quality. Every single cleaning project is supervised and inspected by an experienced supervisor in conjunction with our strict quality control protocols. If you want it clean, call our team!
---
At GrimeGuru Janitorial Service, our cleaning company proudly serves those in Winston-Salem, King, Danbury, Pilot Mountain, East Bend, Elkin, and Yadkinville, North Carolina.
Similar Services We Offer: